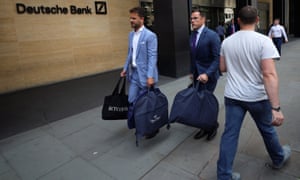 Deutsche Bank's chief executive, Christian Sewing, has personally rebuked managers who ordered tailors to their London office as thousands of traders were let go on Monday.
"I can't understand that someone would call tailors to fit suits on Monday. On the same day, we had to tell many colleagues in share trading that they had to leave," Sewing told the German business daily Handelsblatt in its Friday edition.
"I expect the two colleagues won't forget my call," he added, saying the London managers' behaviour "in no way corresponds with our values".
After two men carrying suit bags were spotted leaving the Deutsche Bank premises, it emerged they were from Fielding & Nicholson, an upmarket tailor. Ian Fielding-Calcutt, the tailor's founder, and Alex Riley were there to fit suits for senior managers in spite of plans to cut 18,000 jobs worldwide.
"Our timing was not great," Fielding-Calcutt told Financial News. "I think a lot of the people getting laid off were traders of some sort, who don't wear suits, and so we just went ahead as normal with our clients, who obviously weren't affected by the cuts."
Fielding & Nicholson suits take up to eight weeks to make. Prices start at £1,200 and can go as high as the customer chooses, an employee said.
Financial News also reported on Friday that Deutsche was scaling back redundancy packages for hundreds of its City staff as it tries to keep a rein on costs during the radical transformation of its business.
The massive restructuring at Deutsche includes 18,000 job cuts by 2022 and a retreat from most share-trading activity – the investment banking business the German lender expanded into at breakneck pace in the years before the financial crisis.
Under Sewing and the previous chief executive, John Cryan, Deutsche Bank has struggled to shake off an image of being focused only on relentless growth and big bonuses, forking out billions of euros in lawsuits and other scandals over its conduct in the years around the crisis.

source: TheGuardian
Become a member
Get the latest news right in your inbox. We never spam!